Industry insiders' take on today's most notable marketing issues and trends.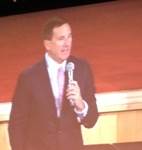 Why does Oracle need seminal cloud vendor NetSuite?
Is the future of marketing in the hands of a few YouTube and Twitter influencers?
Sojern's SVP of enterprise solutions explains the traveler's path to purchase and how marketers can collect data at each stage.
Some big tech companies are giving the Republican National Convention a wide berth, but the message from others is mixed
The questions marketers need to ask to improve their digital marketing spend.
McGowan breaks down the perfect email and shares the lesson that he learned from a recent Royal Caribbean message.
SMBs need personalization to compete with big brands, he says.
Marketers share the time and project management tools they can't live without.
Company of the Week
SK&A is a leading provider of U.S. healthcare information solutions and databases. As part of IMS Health, SK&A researches and maintains contact and profiling data for over 2 million healthcare providers, including 800,000+ prescribers. SK&A's data supports research and marketing initiatives for life sciences, medical device, managed healthcare, direct marketing, publishing, education and more. SK&A's proprietary databases are telephone-verified twice per year from its world class Research Centers. SK&A enables multi-channel marketing and sets the standard for data quality and reliability. SK&A's customers include many of America's most recognized healthcare, publishing and pharmaceutical institutions.
Featured Listings