October 01, 2010
Two of the travel industry's largest hotel companies face off on their direct marketing prowess
Two of the travel industry's largest hotel companies face off on their direct marketing prowess
InterContinental Hotels Group
4,500 properties globally
$16.8 billion in sales

Marriott International
3,100 properties globally
$10.9 billion in sales


Travelers often believe that once you've seen one mid-priced room, you've pretty much seen them all. To unearth the subtle differences from one loyalty program to the next, you must dig deeper still.
"I believe all of these hotels are starting to look the same, and so they have to create something that is unique about them," says Jody Merl, president of Innovative Travel Marketing. "Now, everybody has a nice bed. Everybody has a special rewards program. And yet, they need to differentiate their brand." That's an uphill battle that two of the world's largest hotel chains, Marriott International and InterContinental Hotels Group, face: How do they use direct marketing to stand apart from the competition?
"I think they [Marriott and IHG] still have to create value. It has to be a multimedia effort … From a marketing standpoint, I think they both need to get out of the box a little more," Merl says.
Both companies' signature brands have stellar recognition, but Marriott International, despite being the smaller competitor, has the edge. The company operates 17 brands, including Marriott Hotels & Resorts, Courtyard by Marriott and The Ritz-Carlton.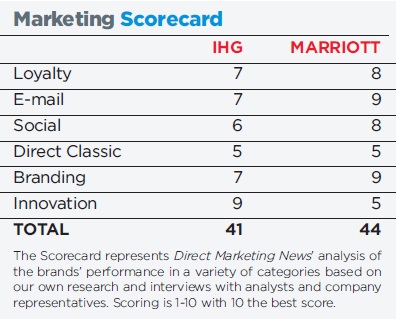 Neither Marriott International nor IHG cracked Interbrand's top 100 best global brands last year, but Marriott Hotels & Resorts appeared on the list as recently as 2008. Within the US, Courtyard by Marriott and Marriott Hotels & Resorts made the American City Business Journals' top 25 "Best Biz Brands." And the name The Ritz-Carlton is nearly synonymous with luxury and service.
Yet the Holiday Inn, one of IHG's seven brands, is an iconic mid-priced hotel chain in the US, a staple during family vacations. The sheer footprint of IHG, which is the world's largest hotel chain in terms of number of rooms, provides incredible name recognition. InterContinental Hotels and Resorts remains popular among international business travelers.
IHG also has been rolling out a rebranding of Holiday Inn and Holiday Inn Express, complete with new logos aimed at giving the chains a contemporary feel.
Both companies have strong loyalty programs but are they vastly different in customers' eyes?
In a comparison on USAToday.com, Marriott outscored InterContinental on loyalty. However, in 2009, IHG's Priority Club Rewards narrowly beat out Marriott Rewards for a Freddie Award, voted on by frequent travelers.
Marriott offers the better redemption options, including attractive travel deals, according to the USA Today analysis. But the Freddie Awards touted IHG's PointBreaks promotions, in which customers may redeem their points for a night at select locations at discounted rates. IHG also allows its members to redeem points at any hotel, including those not among its brands, and for flights without seat or blackout restrictions.
Both companies offer hundreds of rewards options. If Marriott members do not find a redemption offer that interests them, they may request that Marriott place a points price on a specific item. But in the end, both chains agree that customer service, not rewards, drives membership.
"Ultimately, if you don't have a product or service that people are willing to engage with and build, you can't build loyalty to it," says Bob Behrens, VP of marketing at Marriott.