Some considerations for brands on the potential future of mobile advertising.
Allo and Duo are coming. Here's hoping they don't join Google's long list of questionable communications apps.
The world is quite ready for the AR revolution and other points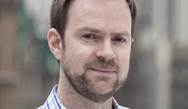 Duncan McCall, CEO of Place IQ, discusses the importance of location to modeling consumer behavior
In the absence of laws and regulations that are directly applicable to mobile tracking, industry leaders need to identify what issues are raised by the channel and develop best practices for its members, he says.
The viral sensation is a big deal for AR and gaming, and could even change the way businesses monetize mobile data.
Who owns mobile data - Advertisers? Agencies? Publishers? Walled garden platforms? Data intermediaries? Are brands and agencies successful in bridging the data chasms of a post-cookie world?
Daily affirmations through mobile messaging
Keith O'Brien discusses the ramifications from last night's House Democrats live stream on gun violence. He discusses how it impacts politics, C-SPAN, broadcast media, and brands.
John Coombs of Toronto-based beacon platform Rover takes the temperature of location marketing