July 14, 2014
LinkedIn acquires media tracking service Newsle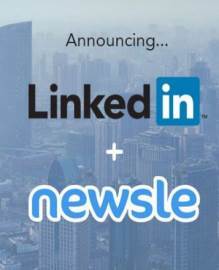 LinkedIn announced today that it has acquired media tracking platform Newsle.
Newsle is a useful service for keeping track of people in the news. It's especially handy for journalists who want to keep tabs on certain personalities within their beat. The platform sends notifications every time a person or company you're tracking shows up in the media, whether it's a national news publication or a niche blog. LinkedIn will now offer these services to its users, creating better opportunities for them to network and keep track of the people they want to connect with.
In a blog post about the acquisition, LinkedIn's head of content products Ryan Roslansky says: "We (LinkedIn and Newsle) both want to provide professional insights that make you better at what you do. For example, knowing more about the people in your network – like when they're mentioned in the news – can surface relevant insights that help you hit your next meeting with them out of the park."
For B2B sales and marketing teams, Newsle will allow them to track potential leads, keeping up to date with all their media appearances, giving them an additional resource when it comes to building a file on a future client. And finally it's a good way for job seekers to gather even more information about their future employers, using the platform to scour the net, providing the latest news info to take into a job interview.
With the Newsle acquisition, LinkedIn now has the ability to make all the content it's providing on its network (through Pulse news and its Influencer posts) more than just entertaining reading. For professionals, the content is now a source of actionable insights.
While Newsle will add all its functionality to the LinkedIn platform, it will continue to operate as a standalone product as well.