May 14, 2014
Adobe opens up its Marketing Cloud, allows other platforms to integrate with it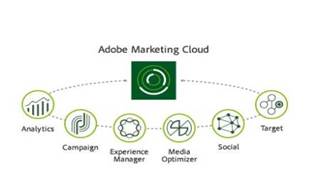 Along with developing tighter integration and new features for its Analytics and Media Optimizer solutions, Adobe's taken the bold step of opening its Marketing Cloud platform to integrations with other marketing applications.
Today at Adobe's EMEA Summit in London, the company announced several new features for Adobe Analytics and Adobe Media Optimizer, but the bigger news was the launch of Adobe Marketing Cloud Exchange. The Exchange is a collection of 150 apps and platforms with pre-built integrations for the Adobe Marketing Cloud, which include technologies such as Google DDM, Microsoft Dynamics CRM, and Tableau.
In essence, Adobe is now giving its customers the choice to use whatever software they want outside the Adobe Marketing Cloud, and Adobe's solutions will integrate with it. This means that a customer can build up an arsenal of marketing solutions from different vendors and not be restricted to using only the offerings of the integrated Marketing Cloud. So for example, a brand using Adobe Analytics could then use Radian6/Buddy media for all its social media management, Marketo for its marketing automation and Salesforce for its CRM functions, and share all the data from those individual platforms.
On the surface, this seems like a big win for customers who can get the best of all worlds by using several different platforms on top of an integrated platform. However, Adobe's strategy is still geared towards making its customers eventually use all the tools in the integrated Adobe Marketing Cloud, but for now, it'll focus on getting its foot in the door through its headliner product, Analytics.
"We don't want necessarily want to make marketers have to switch out other solutions that are entrenched within their organization in order to adopt the best things about us," says Chris Wareham, senior director of product management, Adobe Analytics. Wareham says Adobe's opportunity is to "land" with Analytics, and then let the marketer decide how much or how little they want from the rest of the solutions.
"We don't want to have to force you to change your email provider just because you want to use our Analytics," says Wareham. "We want you to be able to do that on your own time, and we intend to have enough value in our other products' capabilities for marketers to make that choice."
This strategy diverges slightly from Adobe's earlier thinking which was to say that it was in marketers best interest to use its entire Marketing Cloud since it has the best-of-breed products for each marketing function and they were all integrated with each other. But marketers aren't going to abandon specialty software they've grown fond of using, especially if it's a market leader like Radian6 or Marketo. Adobe's recognizing that by playing the long game. Get in with your best product right now, and then slowly convince marketers to adopt your other products, improving your integration capabilities along the way.
It's a strategy that Salesforce has already adopted, getting to marketers with Radian6 or Pardot and then allowing integrations with other platforms, while still maintaining that it has the best-of-breed products in all functions. For now, this works for the big marketing clouds, since their customers won't be forced into adopting the entire marketing suite. It'll also give them time to improve their products and build some very powerful integrations.
Third party vendors will be observing these developments keenly. There's been a growing debate in the digital marketing platform space about whether open platforms are better than closed, integrated marketing suites. Last month, Hootsuite CEO Ryan Holmes wrote a blog post on why integrated marketing suites were bad for enterprises. Holmes wrote:
"The "ultimate marketing suite" is always going to have weak links. No single vendor can hope to offer best-in-class social media tools, data analytics, customer relationship management, marketing automation, etc. all in a single package. The technology is simply too fluid and the scope too vast for any one suite to represent a definitive solution. Some pieces of the suite will be strong; others will be weak. But you're stuck with them all."
For now, Adobe and Salesforce have answered that criticism with third-party integration capabilities. But it's only until they can offer enough value with complete integration among their products. No one's quite there yet, but when that happens, you can bet there's going to be an even more aggressive push towards "All our products are the best, and it's in your best interest to use all of them together, in one integrated suite."