April 28, 2008
Custom publishing packs a marketing punch
Chris Schraft and Stephen Boulton-Wallace
To help support revenue growth, some magazines carry blow-in cards or wraps featuring relevant offers. These and other types of content are specifically designed to reduce churn risk and are chosen according to the nature of the products and services each customer already uses.
Lest anyone erroneously believe custom publishing is mere fluff, understand that the payoff is huge: Boulton-Wallace reports generating $6-$8 per customer against an aver­age 67-cent investment. For the man responsible for AT&T's customer retention, there is but one ultimate measure of success or failure. "When I took this on, our churn was 1.8%. It was 1.2% in fourth quarter last year — a record for the company," he says.
Custom publishing is redefined
AT&T's success illustrates why cus­tom publishing is hot. "Markets are realizing more and more that [with custom publishing] they can control the message, and tailor it exactly to their audience," says the CPC's Rosen. "[But] they have to be high-quality, or they'll lose their audience."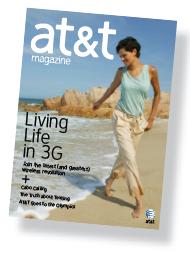 Time Inc.'s Schraft, who has led Time Inc. Content Solutions to annual double digit growth over the past five years, says the biggest news in custom publishing may be its redefinition.
"We're expanding the definition of what custom publishing looks and feels like," he says. "Today, we're offering multi-platform content – from custom magazines and welcome kits to magalogs, interactive Web sites, organic search campaigns and video." Much of the growth, he explains, has come from blending traditional cus­tom publishing with direct marketing tactics, "where you're realizing all of the engagement value of content, with the ROI-driving tactics of traditional direct marketing."
The most critical piece of custom publishing, he says, is relevancy. "Start by understanding the target customer in-depth," he suggests.
Diana Pohly, president of The Pohly Company, whose custom pub­lishing clients have included Whole Foods, Verizon, Coca-Cola and Con­tinental Airlines, says the Internet has played a significant role in changing the fundamentals of building relation­ships with customers. "Content has value in people's lives, and they're open to receiving content from a wide variety of sources," she says.
But she and other experts caution against viewing custom publishing as a short-term tactic. "Companies need to be clear on objectives and com­mitted to consistent dialogue," she explains. "Don't jump in and jump out. It's not what customer engage­ment is about," Pohly says.
For AT&T Mobility and other com­panies who have discovered custom publishing, the ongoing dialogue the channel provides has strengthened relationships and kept customers from jumping to competitors.
"My belief, and much independent research support this, is that the emo­tional relationship — not the transac­tional one — is what creates customer loyalty and drives customer lifetime value," says Boulton-Wallace.