November 12, 2015
Episerver begins its ascent
Ascend '15 marked the global relaunch of two well established content and commerce platforms, now convergent under the Episerver banner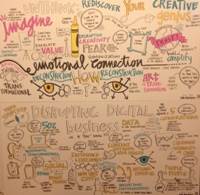 Ascend '15 memorialized in real time by Ink Factory (inkfactorystudio.com)
Ascend '15, held in Las Vegas this week, was something of a coming out party for the new Episerver. On the one hand, Episerver is by no means a new company. Founded in 1994, it's an established brand in its native Sweden. But after merging in January this year with New Hampshire-based web content management vendor Ektron, it's setting its sights both on the US market, and on becoming a global company.
Episerver's traditional focus has been using sophisticated digital marketing techniques to generate business results (earlier this year, I spoke Joakim Homlquist, the company's digital marketing director, about U.S. Presidential elections viewed as eCommerce campaigns). Ektron has been delivering personalized digital experiences to drive ROI. Bringing the solutions together, said James Norwood, EVP for Strategy and CMO, has meant "taking the hidden gem of Episerver's product and building what's best of Ektron into it." The result of the convergence is the Digital Experience Cloud, the Fall '15 version of which is released this week.
What's in the Cloud?
In a series of discussions with Episerver executives, partners and customers, over the last three days, I've explored what the Episerver Digital Experience Cloud is, and--equally importantly, as always--what it isn't.
First up, it's not a cloud. Not necessarily, anyway--or more precisely, not yet. The heritage products offered by Episerver and Ektron were on-premise, licensed software solutions. Most of this historic customer base (almost 9,000 across 30 countries) is still using the on-premise solution, said Norwood, but in the last twelve months 70 percent of on-boarded customers have gone to the cloud version. "Moving to the cloud is very important," he said, a stance confirmed by Episerver's decision to use the "Cloud" name for the platform regardless of deployment model. In particular, cloud-based users will be able to benefit from frequent, even weekly updates, and get quick access to "minimum viable product" launches.
The Digital Experience Cloud is "an end-to-end platform to underpin digital marketing initiatives," Norwood said in his keynote. We'll unpack what that means, but let's be clear that it's not a full-blown marketing cloud; not a data management platform; not a digital asset management tool; not a comprehensive social media management suite; and certainly not a CRM system--although there are ways for each of those elements to surface within the Episerver eco-system.
At its heart, the Episerver platform is a content and eCommerce management system, but with significant bells and whistles--the most notable of which, in its current iteration, are a user-friendly interface for building, approving, launching, and optimizing campaigns, and the ability to deliver personalized online content.
In Episerver's terms, a "project," said Bob Egner, VP of Product Management and Marketing, can be thought of as "a project management container for all elements of your campaign." Episerver's Projects tool allows users to assemble, modify and review content for a campaign in one collaborative space--sandboxed from other campaigns (you can develop an unlimited number of campaigns in parallel)--and schedule the launch of the content from the one interface. It includes functionality for making and preserving comments on content, tracking revisions, and assigning workflows.
Commerce Campaigns is tailored for marketers to build commerce activities like promotions and discounting into campaigns, and set and track campaign targets. The Fall '15 release also includes a new form-building engine, with the option to populate and personalize forms with data from other marketing automation platforms (more on that below); and Instant Templates, based on Ektron's Page Builder and Master Templates tools, to facilitate content creation.
What's coming to the Cloud
The Digital Experience Cloud, in its Fall '15 iteration, is available to Episerver customers this week. Egner also laid out the roadmap for developments over the short (next two quarters), medium and long-term. Coming up soon: a new social publishing tool to replace Ektron's social reach capability, and the convergence of A/B and multivariant testing tools hanging over from the heritage Episerver and Ektron products. In the medium-term, expect to see an expanded concept of campaigns, featuring enhanced campaign metrics, customer journey metrics, and stored profiles.
Down the road--"We're thinking about it, but not yet working on it," as Egner puts it--cross channel campaigns, moving beyond web and mobile content to email and social media marketing; ROI and attribution metrics; and predictive modeling to optimize content delivery.
I asked Egner if he was anxious about taking what he called "a measured approach" to capabilities like predictive modelings--which some vendors already claim to offer. His response was that many customers aren't even ready for "futuristic" developments. Things like predictive modeling might be on the check-list when a business is buying marketing technology, but it doesn't necessarily mean they're ready to use it. I heard this in several variations during the conference. Norwood told me, "Technically our product is way ahead of what most of our customers are actually using," and in a panel discussion, independent consultant Scott Liewehr of the Digital Clarity Group mused that when it came to tech, "people have big eyes when they're buying."